The CIA Informer
Sign up for the CIA Informer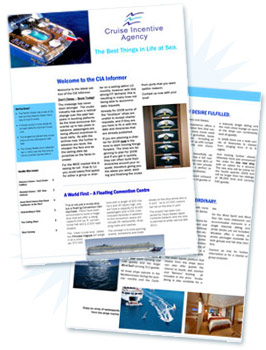 Fill in the form below to sign up for our newsletter.
We are delighted to bring you the latest edition of our newsletter, the "CIA Informer" that we hope you will find to be useful and informative.
Our aim is to bring you new ideas for operating programmes at sea and get you to consider that an event at sea is no different from organising one on land, except that these hotels move!
In the latest edition
Hot Spot - Bermuda
All Ashore with Regent
Oceania, Raising the Bar
Gracious Seabourn
$15m Crystal Makeover
Introducing Tere Moana
Safety at Sea
Messing About on the River
Missed Issue Seven? Download It Here
Missed Issue Six? Download It Here
Missed Issue Five? Download It Here
Missed Issue Four? Download It Here
Missed Issue Three? Download It Here
Missed Issue Two? Download It Here
Missed Issue One? Download It Here
Click here to sign up for our newsletter